3rd Bioscience and Biotechnology International Symposium
Summary
3rd Bioscience and Biotechnology International Symposium
Title : Innovative approaches to biological systems: Light, motion, and small molecules
Jointly organized : Tokyo Institute of Technology Graduate School of Bioscience & Biotechnology Education Academy of Computational Life Sciences
Cosponsored by : The Chemical Society of Japan
Date : 2015/1/14 13:00~18:30
Venue : Tokyo Institute of Technology Suzukakedai Campus Suzukake Hall
Speakers
Invited speakers
Klaas J. Hellingwerf (University of Amsterdam)
Jaebum Choo (Hanyang University)
Hidehiko Nakagawa(Nagoya City University)
Hiroyuki Noji (The University of Tokyo)
Masanori Matsuzaki(National Institute of Basic Biology)
Tokyo Tech Speakers
Hiroyuki Ohta (Tokyo Tech)
Masaaki Wachi(Tokyo Tech)
---
Report
On January 14, 2015, the 3rd Bioscience & Biotechnology International Symposium was held at the Suzukake Hall in Suzukakedai campus. This symposium has been held once a year since 2013 to provide opportunities, especially for graduate students, to experience an international symposium, presentation of top scientists, and scientific discussions.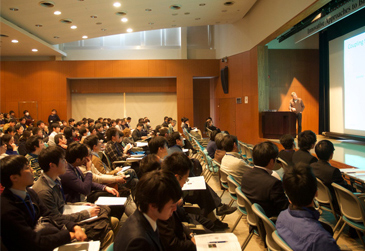 This year's symposium title is "Innovative approaches to biological systems: light, motion, and small molecules". It was intended to see current progresses of experimental technologies that should be important for next-generation life-science research. We invited two speakers from overseas countries, three speakers from Japanese university/institute outside of Tokyo Tech, and two speakers from our departments. In the first session, Professor Klaas J. Hellingwerf (University Amsterdam, The Netherlands) and Professor Hiroyuki Ohta (Tokyo Tech) presented their synthetic biology approach to design specialized microbial cells producing useful materials such as lactic acid and triacylglycerol. In the second session, Professor Jaebum Choo (Han Yan University, South Korea), Professor Hidehiko Nakagawa (Nagoya City University), and Professor Masaaki Wachi (Tokyo Tech) presented their chemical approaches for characterizing biological systems. In the last session, Professor Masanori Matsuzaki (National Institute for Basic Biology) and Professor Hiroyuki Noji (The University of Tokyo) presented their unique approaches to characterize cell function and/or single molecule characterization with novel microscopy techniques.
Approximately 270 people attended to the symposium; most of them were also joined to the banquet after the symposium. We believe that all participants enjoined the exciting talks and scientific discussions. The committee members will continue organizing the international symposium with keeping high scientific quality.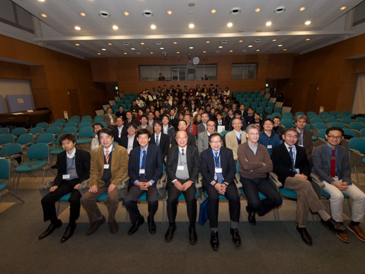 ---