Open Research Facilities for Life Science and Technology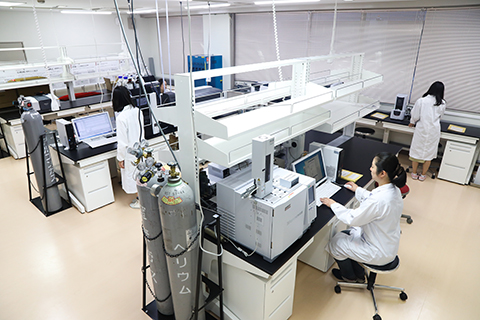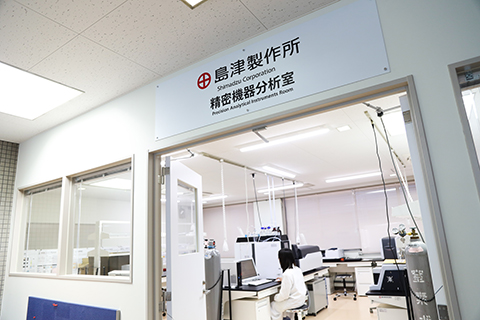 Features
The School of Life Science and Technology was established in 2016 to facilitate a broad range of research, not only from a science and engineering viewpoint but also from pharmacological, medical, and agricultural perspectives. At the School, 120 faculty members extensively perform cutting-edge research in about 70 fields of study, including development of small-molecule compounds and polymer compounds, research using genes and cells, and experimental animals and vegetables. In response to many researchers' requests to centralize and share large equipment at Tokyo Tech and improve the research infrastructure, some of the advanced instruments were selected and grouped together for use by all Tokyo Tech members. As a result, the Open Research Facilities for Life Science and Technology were opened in 2017. The facilities include shared equipment laboratories such as the Shimadzu Corporation Precision Analytical Instruments Room, cell and protein analysis facility, ultracentrifuge facility, cold room, bioimaging facility, aquatic animal laboratory, bimolecular analysis facility, and microbial culture room to complement the Center for Biological Resources and Informatics as well as the Biomaterials Analysis Division (Technical Department), in which equipment has already been shared. There is also a shared laboratory with general-purpose equipment and a shared office for preparation of experiments, technological exchange, skills development, and promotion of interdisciplinary research and international collaborative research.
The Shimadzu Corporation Precision Analytical Instruments Room is equipped with cutting-edge instruments donated by Shimadzu when the School was established, such as a mass spectrometer and the School's own equipment made by the company. The room aims to aid Tokyo Tech in enhancing its research activities by utilizing the company's equipment and expertise, and serves as a showroom for the latest technology. The room has attracted a lot of attention from all over Japan for its originality in industry-academia cooperation.
Overview and Agenda
The Shimadzu Corporation Precision Analytical Instruments Room is equipped with cutting-edge instruments including a mass spectrometer, microchip electrophoresis system for DNA/RNA analysis, Spectrofluorometer, Fourier transform infrared spectrometer, and gas chromatograph. Tokyo Tech and Shimadzu Corporation have jointly hosted equipment training sessions and workshops for users. The room now operates as a place for technology exchange among researchers as well as a place for developing skilled individuals and promoting research. The cell and protein analysis facility is equipped with a BIAcore surface Plasmon resonance detector, circular dichroism spectrometer, multilabel plate reader, and thermal cycler for Real-time PCR, allowing researchers to conduct wide-ranging analysis of cells and proteins. In the ultracentrifuge facility adjacent to the Shimadzu room, two Preparative ultracentrifuge, 7 types of rotors, Analytical Ultracentrifuge, and tabletop Micro- ultracentrifuge, all manufactured by Beckman Coulter, are grouped together. The cold room and shared laboratory on the same floor provide researchers with an open space to make analysis samples.
The shared laboratory is equipped with various general-purpose equipment including fume hoods, biosafety cabinets, freezers, showcases, sterilization equipment, an ultrapure water system, various incubators, a thermal cycler for PCR, and gel documentation systems. In addition to free space that anyone can use, the shared laboratory and shared office will be equipped with laboratory tables and desks available for rent on a monthly basis for Tokyo Tech members, those not affiliated with the Institute, and short-term visiting researchers. Technical support staff are located at the shared office to hold events, maintain equipment, and manage the reservation system, usage log, and manual.
The Open Research Facilities for Life Science and Technology broadens the range of choices available for individual researchers. It is also expected to become vital to the development of interdisciplinary and transdisciplinary research by providing a gathering place for researchers, engineers, and students of various backgrounds. Utilizing the facility to support newly arrived faculty members in their research is also possible. For current faculty, it may reduce the purchasing, operation, and maintenance costs of equipment in each laboratory. Overseas researchers invited by the Institute for a short time may also use the shared laboratory and shared office. The place is expected to vitalize research and contribute to personnel development in a variety of ways.
Related Website
Open Research Facilities for Life Science and Technology
http://www.kyoyo.bio.titech.ac.jp/index_eg.html