History and Roots of the School
Blending Life Science and Technology to Create Infinite Possibilities
Can you imagine how our society will change in the coming years?
We can foresee the future as life science and technology progress together.
Extensive research is being conducted at the School of Life Science and Technology, from exploring the principles of life to technological applications.
Collective knowledge and skills in life science and technology offer infinite possibilities for our future society.
History of the School
1929

Foundation of the Tokyo Institute of Technology

June 1990

Foundation of the School of Bioscience and Biotechnology

April 1992

Foundation of the Graduate School of Bioscience and Biotechnology

Autumn 1993

Establishment of the Gene Research Center

March 1997

Establishment of the Research Center for Experimental Biology

1999

Reorganization of the Graduate School Three new departments were opened in the graduate school: Department of Life Science, Department of Biological Information, and Department of Biomolecular Engineering. The undergraduate school was restructured into two departments: Department of Bioscience and Department of Biotechnology.

2000

The Department of Bioscience and the Department of Biotechnology in the graduate school were reorganized and renamed as the Department of Biological Sciences and the Department of Bioengineering, respectively.

2001

Construction of the Radioisotope Research Center

2003

Three research centers were merged to create the Center for Biological Resources and Informatics.

2016

Reorganization of the undergraduate and graduate schools as the School of Life Science and Technology
Roots of the School
Tokyo Tech successfully created vitamin B2 by hand for the first time, thereby making industrial production possible. In addition, a drug for improving liver function, Urso, and an antiviral drug, Arasena, were also synthesized at Tokyo Tech. Furthermore, a group of Tokyo Tech researchers discovered alkaline enzymes, which led to the development of enzyme-containing detergents. Based on this pioneering research, Tokyo Tech established the School of Bioscience and Biotechnology, which was Japan's first interdisciplinary school of life science and technology.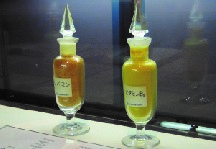 The School of Life Science and Technology is advancing world-class research, developing various fields related to the life sciences, and delivering excellent results.