Voice
Nur Akmalia Hidayati
2nd year student, Doctoral program
Department of Biological SciencesDepartment of Biological Sciences
Ohta Lab.
It is one of my dreams to study in Tokyo Tech and be accustomed with Japanese culture in daily life. As an International graduate student in Biological Sciences, I seek opportunity through collaboration within worldwide research group and remarkable staffs of Graduate School Bioscience and Biotechnology. International academic environment, advanced bioscience research prospective and high-equipped research facilities which provided by the Graduate School, have led me to pursue my excellence during my study. A warm welcome from the professor and students in my lab gave me easiness and help during my first arrival in Japan. Lately, I feel glad to be a part of Graduate School of Bioscience and Biotechnology, thus I'm hoping my best for my research in the future.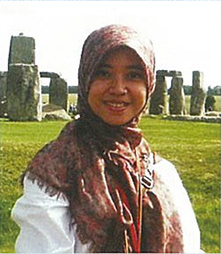 ---